The Bancrof™ Tower provides hours of exercise & self-amusement for cats' of all ages, whilst also eliminating any boredom & downhearted days for your felines.
If your cat has endless energy then this is the ultimate entertainment gift for your cat to play with especially whilst they're at home alone & in need of any form of amusement.
Help Your Cats Bond
With a ball on each level, multiple cats' can play at once with each cat pawing away at a ball allowing them to play together & have multiple hours of fun.
Less Home Decor Being Ruined
Say goodbye to curtains, sofas, shoes, etc. being targeted by your cat & their paws. With the majority of their scratching being focused on the tower & not your expensive furniture.
Improve Hunting Instincts
The balls slide around the whole track stimulating your cats' hunting instincts. Helping your cat feel more confident going outside & enjoying their outdoor life.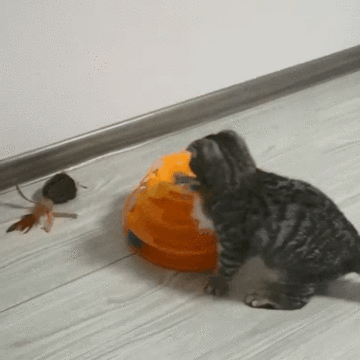 Non-Slip Base & Ball Security
Security is guaranteed as the tower has anti-skid pads on the bottom for your cats' strenuous exercise. The balls are also the perfect size so they don't become loose during your cats' playtime.
Durable Design
Manufactured from durable ABS plastic, this will survive the day-to-day basis of your cat trying to paw away to their heart's content without causing any harm to themselves.
Pets Will Be Intrigued
With an extremely captivating design & colorful balls this appeals to pets even more providing many hours of entertainment.