The Easiest Way to Remove Mats
and Knots in Your Pet's Coat!
Grooming an animal manually can be frustrating, especially when dealing with a curly-haired pup.
And when you're in a hurry and have to get to work? Forget about it!
Say hello to The Cuddle Groomer. It makes grooming time more enjoyable since it eases and speeds up the process while giving your pup relaxing strokes. So don't waste any more time and grab one today - we promise you won't regret it.
Help remove loose fur from your dog's coat with this Dog Shedding Brush. Excessive shedding means there's more cleaning for you to do, so catching those loose hairs before they fall is important. This brush is suitable for all coat types including long or short hair, and even wet or dry hair. It is designed to collect loose fur and hair from your pet, making for a super easy grooming experience. There isn't an easier way to groom your pet than this!
Double-Sided Head
Sharp inside blades and round outside blades provide an efficient combination for grooming your pet's fur with ease.
Comfortable Brushing
Gently brush away mats, light tangles, and loose undercoat with a soft, flexible brush. No pain or uncomfortable moments involved.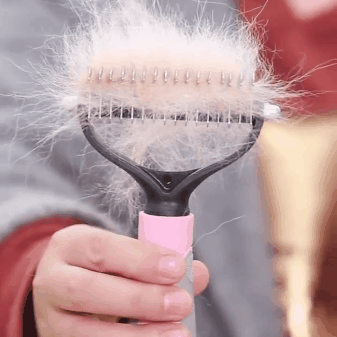 Shiny And Smooth Coat
Removing hair not only helps reduce shedding hair from the environment, but it also stimulates skin oils and improves coat softness and shine.
Versatile Design
Great for dogs or cats with short, medium, curly, or long coats, and can be used wet or dry.
PACKAGE INCLUDED
1 x Dog Shedding Brush