Congrats on the success!
Choose EELHOE™ Collagen & Astaxanthin Skin Lifting Bottle and become the next successful person.
"Aging gave me sagging skin and deep wrinkles, I have been feeling disappointed every time I look at myself in the mirror because my husband was about to leave me because of my appearance. However, my desperation led me to try the EELHOE ™ Collagen & Astaxanthin Skin Lifting Bottle, and it did not disappoint me at all. After using it, my skin looks younger and more hydrated, with a much smoother texture. I was initially skeptical about using a DEEP SEA Active Skin Essence, but it has made a huge difference in the appearance of my skin. The product has definitely helped to reduce the visibility of my deep wrinkles, and I am more confident now when I look in the mirror. It was a game changer skin care product to aid sagging skin and wrinkles." - Olivia Garcia
"After hitting my 40s, I started to notice that my skin wasn't aging as well as I had hoped. I was developing deep eyes expression lines and wrinkles on my forehead, which was really starting to bother me. I stumbled upon EELHOE ™ Collagen & Astaxanthin Skin Lifting Bottle online and decided to give it a try. After just a few weeks of using it, I was blown away by the results. The film had lifted and smoothed my skin, making my wrinkles much less noticeable. I felt like I looked years younger! I love this product because it's easy to use and has made such a big difference in my appearance. I feel more confident and comfortable in my skin now." - Candace Williams
When the unique collagen essence of EELHOE™ Collagen & Astaxanthin Skin Lifting Bottle comes into contact with your skin, it completely dissolves, allowing for deep hydration and plumping while also enhancing elasticity and radiance, leaving your face revitalized.
EELHOE™ Collagen & Astaxanthin Skin Lifting Bottle is designed to elevate your anti-aging skincare regimen. This innovative product is specially developed in Korea using biomimetic sebum film technology, which will help you achieve soft, radiant, and youthful-looking skin.
Our Ability To Produce Collagen Has Dropped By Up To 25% By The Time We Are In Our 40s
The suppleness, firmness, and moisture of the skin are all vitally dependent on collagen. As we get older, the body's capacity to naturally make collagen starts to wane. Collagen production normally begins to decline in our mid-20s, and by the time we are in our 40s, it may have fallen by up to 25%. The loss of skin suppleness, fine lines, wrinkles, and sagging skin—all indications of aging—can result from this decline in collagen formation.
What is Biomimetic Sebum Film Technology
Biomimetic sebum film technology is a technique that mimics the natural substances secreted on the surface of human skin to produce a film similar to natural sebum. This film has good hydrophilicity and lipophilicity, which can simulate the natural barrier of human skin, thereby improving the permeability and absorption of skin care products.
With its cutting-edge biomimetic sebum membrane technology, EELHOE™ Collagen & Astaxanthin Skin Lifting Bottle provides a powerful and revolutionary skincare experience. Thanks to this technology, the product's active ingredients are more effective as they can reach deeper layers of the skin and produce more visible benefits. The membrane's solubility technology can significantly reduce the visibility of wrinkles, fine lines, and dark spots, making your skin smoother and more radiant.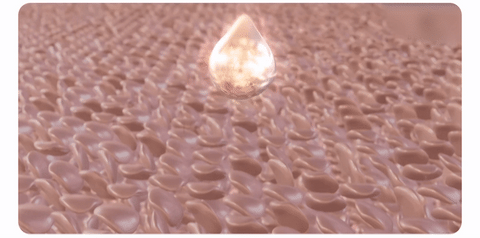 Consist of 2 Powerful Key Ingredients For Anti-Aging
High Content Collagen - In anti-aging treatments can benefit skin health and appearance in a variety of ways. When applied topically, collagen molecules can reach fibroblasts, which are the cells that make collagen, via the skin's outer layer. The production of collagen is boosted, making the skin firmer, more elastic, and better equipped to fend off wrinkles and fine lines. By attaching to water molecules and holding onto moisture, High-Content Collagen can also aid in hydrating the skin. A more young and healthy appearance might result from this improved skin texture and plumpness.
Marine collagen, composed of small molecules that are easily absorbed by the skin, is a key ingredient in EELHOE ™ Collagen & Astaxanthin Skin Lifting Bottle. This form of collagen is identical to the collagen naturally present in human skin and comes from the deep sea near the coast of New Zealand in the South Pacific. It has significant anti-aging advantages. Incorporating this product into your skincare routine may help you achieve a firm, lifted, and smooth complexion, reducing the visibility of fine lines, wrinkles, and sagging skin.
As a new type of cosmetic ingredient, especially in the field of high-end cosmetics, natural astaxanthin, with its unique molecular structure, can efficiently quench free radicals caused by ultraviolet radiation through its antioxidant action, prevent skin photoaging, reduce the damage of UVA and UVB to the skin, prevent the occurrence of skin cancer, delay cell aging, reduce skin wrinkles and melanin deposition, reduce the occurrence of freckles, and maintain moisture, making the skin more elastic, firm and hydrated. Japan has already patented the use of astaxanthin for its anti-photosensitivity effect in cosmetic production.
What Makes The

EELHOE ™ Collagen & Astaxanthin Skin Lifting Bottle

 

Be The GREAT CHOICE?
✔ Provide powerful tightening and pulling effect
✔ Produce instant visual cosmetic effects
✔ Helping you have bright, lifted, and youthful skin
✔ Helps strengthen and tighten facial skin
✔ Suitable for all skin types, including sensitive or reactive skin
✔ Reduce fine lines and wrinkles, improve firmness and softness
✔ Helps relieve tension, shape facial contours, and promote bloodcirculation

 Here are some of our happy customers
"I've been using the EELHOE ™ DEEP SEA Active Skin Essence for weeks now and my skin has definitely improved. After suffering from eyelid drooping that resulting to my eyelash touching my eyes which makes it really itchy at times this really helped me with my struggles. The puffiness are visibly reduced, and my face appears to be well moisturized. I used it at night before I go to sleep and I wake up with a smile. I am 68 years old and whatever makes me look younger I adore. This is a keeper! Say goodbye to wrinkles." - Sophia Willow
The main contributors to the research and development of EELHOE ™ Collagen & Astaxanthin Skin Lifting Bottle
Dermatologist and dermatology expert Dr. Naomi Hosteller has been practicing for over ten years. She is renowned for her expertise in skin health and for the way she uses cutting-edge cosmetic procedures and dermatological technologies to create and maintain the most natural-looking skin. 
EELHOE ™ Collagen & Astaxanthin Skin Lifting Bottle is safe and comfortable for all skin types. It is even suitable for sensitive skin. It is recommended for all parts of the body.    
Suggestion:
Use it twice a day, and do not have faults during use, so as not to affect the use effect. According to our research data and customer feedback, the effect is most obvious and stable in the 8th week of use. Over 10,000 customers reported that it's better to buy 5 Bottles or more at a time in case there would be disruption of use that may affect results due to long-time delivery and logistic process between orders.
HOW TO USE

1. Open the lid
2. Insert the dose tube into the bottle.lift the bottle upside down, and takeout the essence liquid as required
3. Put the bottle on the table, pull out the dose tube, and apply essence on your face.
4. After use, insert the dosing tubeinto the bottle and store it flat.
Package Include:
EELHOE ™ Collagen & Astaxanthin Skin Lifting Bottle(30ml)、D

ose Tube * 1
We hereby declare that our developed products are only available for sale in our store. Any unauthorized use of our products and their sale through other channels is illegal. We will take all necessary legal measures to protect our intellectual property and hold accountable for any infringing actions.
👑ABOUT US 
SHIPPING
We ship worldwide
If you have any questions, please contact our customer servicestaff member for assistance!
OUR GUARANTEE
📦 Insured Worldwide Shipping: Each order includes real-time tracking details and insurance coverage in the unlikely event that a package gets lost or stolen in transit.
✉️ 24/7 Customer Support: We have a team of live reps ready to help and answer any questions you have within a 24-hour time frame, 7 days a week.